Laser Engraved Services delivers the finest engraving services on the Connecticut Shoreline from our facility in Clinton, Connecticut.
PLEASE NOTE: Laser Engraved Services is now located on private property, but will still be able to service our loyal local patrons by phone, email, and appointment.
Our lasers provide us the ability to engrave on glass, wood, plastic, leather, anodized aluminum, stainless steel (marking) - almost any surface except precious metals. Please click here for a full list of our abilities.
We also provide commercial and industrial marking for small and large businesses. Part Numbering, Product Branding, engraving can be the most economical and professional way to mark your parts.
By utilizing a rotary accessory we can engrave wine glasses, champagne flutes, crystal flutes, wine or liquor bottles and glasses of all types. Engraving glasses can be a personal and economical gift to mark a wedding, birthday or any special occasion.
Rotary engraving is not restricted to glass items, we have also engraved flashlights, pens, vases, basketballs and more! If your not sure if we can engrave your item - please call or email - we'll find out.
WHAT CAN YOU ENGRAVE WITH A LASER?
What We

CAN

Engrave
What We

CANNOT

Engrave
Glass
Gold
Wood
Silver
Acrylic
Most Objects larger than 24"x18"
Fabric
Coated Metals
Ceramic
Leather
Anodized Aluminum
Stainless Steel

*

Titanium

*

Bare Metals

*

More...

*

CO2 lasers will mark bare metals when coated with a metal marking solution.



---
860-669-9998
11/12/2012
We have moved to a private location and will operate via phone, email, internet, and by appointment.

Laser Engraved Services will stll service our loyal local patrons and will deliver locally, in person.
---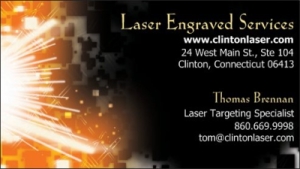 Engraved Bottles